Classic Cross Draft Paint Booth Specifications
A classic Cross Draft Paint Booth intakes fresh air through filters in the main entry doors. Then the clean filtrated air moves through the booth over the vehicle being painted. It is then exhausted through fiberglass exhaust filters at the opposite end. Cross Draft Paint Booths are cost effective and efficient to operate and maintain. This booth also has several options available like a drive through model or a reverse flow design. A reverse flow paint booth intakes air through filters in the back wall of the booth. It then has solid main entry doors instead of filtered. It will have exhaust boxes on either side of the entry doors. This style of booth provides cleaner paint jobs as most of the shop dust is being made in front of the booth.
Classic Cross Draft Paint Booth Specifications for Lighting
Unlike some of the competition our cross draft paint booth has ten four-tube, 48", 32-watt, fluorescent light fixtures mounted in the hip panels and side walls. They are sealed behind clear, tempered safety glass. All fixtures are UL listed. The bulbs are not included.
Construction Features and Quality Standards
All booth sections are made with 18-gauge galvanized steel. All product and personnel access doors are pre-hung in high quality galvanized steel frames for easy installation. Brixon latches are provided for each booth door opening.
Exhaust System (1) 30" Diameter Tube axial Fans with non sparking blades and 3-HP, Three Phase motor.
Assembly Hardware: Spray Booth Assembly Hardware consists of all Filters, Draft Gauge, Fans, Motors, Drives, Sheet Metal Screws, Nuts, Bolts, Etc. Blueprints.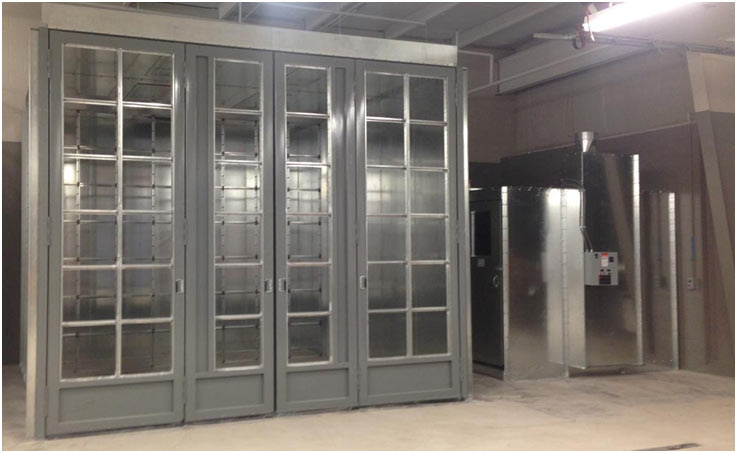 Cross Draft Specifications:
Interior Dimensions: 14'W x 9'H x 24'6"L
Exterior Dimensions: 14'6.5"W x 9'2"H x 26'4" L
Personnel Door: 1
Nominal Door Opening: 9'4"W x 8'10.5"H
Fluorescent Lights: 10
Equipment Price
Optional Equipment
Powder Coating
Control Panel
Single Phase Non Heated
Exhaust Kit
Add 1' in Length
Our factory trained installation crew can get your new Classic Cross Draft Paint Booth installed correctly and quickly.
This our specialty! You can rest assured that your new equipment will be operational in no time.
Need more information about Paint Booths? Request a Quote
If you need help or have any questions you can always call 800-637-4027