Paint Booth Air Makeup Units for Sale
The air make up units we install have versatile applications and be used as a replacement on any booth or finishing line that utilizes a building system dump. With our experienced team of equipment installers, we can retro fit a new air make to your existing paint booth. Whether it is a pressurized booth or a negative pressure booth, we can outfit you with a new air make up unit today. If the booth is a modified, side or full down draft configuration pulling in shop air, now we can pressurize the booth and add a cure cycle that will save time and conserve energy. Give us a call today and see what we can do for you! 1-800-637-4027
We feature Heated Air Replacement Units designed for both fuel efficiency and ease of operation. Air Makeup Units (AMUs) deliver filtered heated air evenly throughout your spray booth or building. Heated tempered air is controlled by digital sensors to minimize temperature variations throughout the booth. They are equipped with standard disposable pre-filters that remove particulates before air enters the paint booth.
With energy consumption in mind, these AMUs are designed with a unique dual-blower design found in many of our direct-fired and indirect-fired air handlers. These models are built with two blowers on a single tubular shaft, but one small HP motor is outside of the heated airstream to drive the supply air blowers. This design delivers the same CFM as a single blower unit, yet with much lower electrical operation costs, and with the added benefits of extended motor and belt life.
We provide economical, energy efficient units with a variety of options designed with your facility's need in mind. We offer direct- and indirect-fired air make-up units, as well as gas-fired or warm air unit heaters. We can customize your air handling systems with evaporative or mechanical cooling and high filtration options, and we offer low-intensity infrared "tube" heaters with a variety of innovative control packages.
Heated Air Makeup Unit Drawings – click image to enlarge drawings
Our factory trained installation crew can get your new Air Makeup Unit installed correctly and quickly.
This our specialty! You can rest assured that your new equipment will be operational in no time.
Need more information about Air Makeup Units? Request a Quote
If you need help or have any questions you can always call 800-637-4027
Features of our TT Replacement Air Units include:
1,600 to 85,000 CFM
30:1 burner turndown
Industrial-grade equipment with welded construction
Variable volume – 100% outdoor air or recirculation for building pressurization
Upright or horizontal, indoor or outdoor configurations
ETL listed for all models in the United States and Canada
Our high-quality, sustainable TT-Series units incorporate a common shaft design that eliminates the need for a center coupling with shaft and support bearings. With motors and belts located outside the airstream, thermal wear is minimized. There are many applications
including manufacturing, automotive garages, and warehouse spaces.
Some available options include
16″ or 24″ roof curb simplifies rooftop mounting
Inlet hood protects against water entrainment
Filter section with 30% pleated, 30% polyester or permanent filters for longer equipment life of internal components and clean, filtered air Motorized inlet and discharge dampers for exfiltration control
FM/XL Insurance compliant gas trains
Low-temperature automatic shutdown
7-day time clock
Remote control panel with summer/off /winter switch for easy operation
Mild weather stat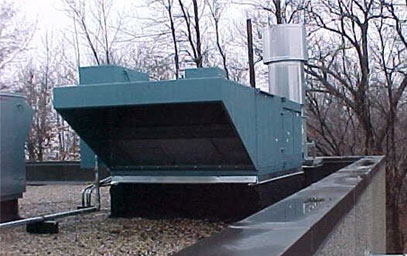 Designed to deliver 100% of burner energy into a heated space, the XT-Series commercial grade direct-fired, make-up air units provide an efficient solution to heating, ventilating or pressurizing a space. The unit is constructed with high quality cabinet frame and wall panels that bolt and screw together to form an economical and durable air make-up unit. This series is used for commercial and industrial spaces as well as paint booths and finishing lines.
Features of our XT-Series direct-fired, make-up air units include:
1,000 to 40,000 CFM
Aluminum manifold burner with 30:1 turndown
Commercial-grade equipment with bolt and screw construction
Variable Volume Options – 100% outdoor make-up air or recirculation
Building pressure and space temperature control
Upright or horizontal, indoor or outdoor configurations
Economical Price Points
ETL listed for all models in the United States, 100% Outside air and Process heaters in Canada
Our XT-Series models incorporate several options for control panels that are appropriate for any application. Some uses include: manufacturing buildings, warehouses, commercial kitchens, vehicle and product finishing.
Some available options include:
19″ roof curb simplifies rooftop mounting
Inlet hood protects against water entrainment
Filter section with 30% pleated, 30% polyester or permanent filters for longer equipment life of internal components and clean, filtered air
Motorized inlet and discharge dampers for exfiltration control
FM/GAP-XL Insurance compliant gas trains
Direct Digital Controls (DDC) for local or network interfacing
Remote control panel with summer/off/winter switch for easy operation
Low-temperature automatic shutdown
7-day time clock
Remote control panel with summer/off /winter switch for easy operation
Mild weather stat
Need More Information about Replacement Air Make Up Units? Request a Quote