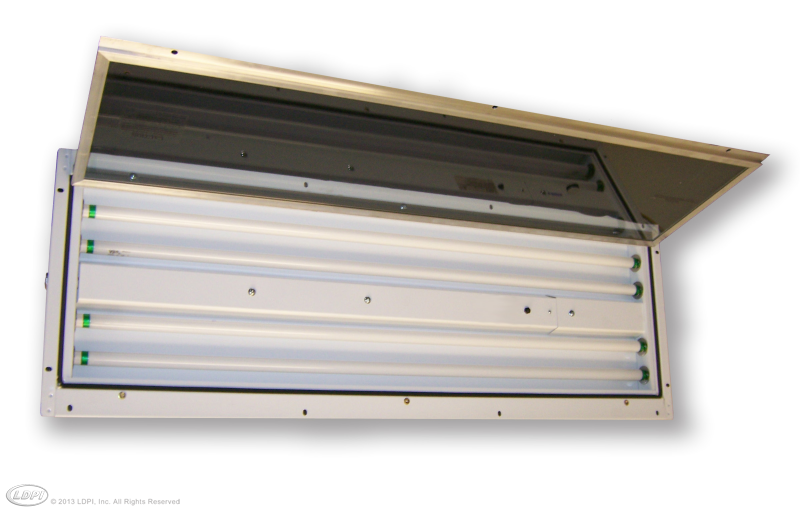 Slim Light LED Series Paint Booth Light Fixtures
Product Overview
The Slim Light LED Series is available in 2, 4 and 6-Lamp models. The Slim Light LED Series features a 20 Ga. white powder coat steel housing that is only 2 ¼" thick. The Slim LED Series is available as a 4' fixture with 2, 4 and 6 LED lamp options, it can be built with low, standard and high ballast factor ballasts and is available with 4000 and 5000K LEDs. This series provides a hinged front door lens assembly with a paint spray cutoff switch when opened. This fixture must be installed with the hinge side up when being horizontally mounted. LED lamps included.
Features
20 Gauge steel construction with white powder coat
which creates a durable, highly reflective finish.
Hinged front lens assembly for convenient access
2 1/4" depth minimizes the space needed in the paint spray booth for the fixture
40% + energy savings compared to F32 T8 fluorescent lamps
50,000 hours
Lens
3/16" clear tempered glass
Performance
L: Low Ballast Factor Ballast 25 – 75 watts
(2800 – 8700 lumens)
S: Standard Ballast Factor Ballast 29 – 87 watts
(3200 – 9900 lumens)
H: High Ballast Factor Ballast 37 – 111 watts
(3700 – 12000 lumens)
120 – 277 Volt
Note
Normally open magnetic switches are intended to be used to trigger a relay
(furnished by others) which disables the paint system. Because of the small
capacity of the switch a solid state relay is recommended. It may be desired
by others to utilize a separate power supply to segregate the relay
(furnished by others) from the lighting power supply.
The magnetic switch IS NOT designed to directly control light operation!
The magnetic switch is rated for 10 watts resistive at a maximum of 300 VAC.
More Information
Caution
Overloading the switch circuits WILL cause failure.
we recommend having a certified electrician/engineer
review loads to ensure that overloading of switch does not occur.
UL / Class Listings
Class I Division 2
Class II Division 2
Series: Slim Light LED
390420-LED
390440-LED
390460-LED
Options: Slim LED – Source
H: High ballast factor
L: Low ballast factor
S: Standard ballast factor
Options: Slim LED – CCT
4: 4000K
5: 5000K
Slim Light Series
5902: 8 Ft. 3-wire whip Included