Open Faced Paint Booths
These open faced paint booths are available in a wide range of designs to meet any production requirement. They are used to paint just about anything from aircraft parts to doors and cabinets. They continue to be one of the most versatile booths in the industry.
These floor model booths are designed for batch type production systems. Clean air is drawn in through the open front, across the parts being coated and exhausted through an exhaust filter bank in the rear of the booth. The dry exhaust arrestor filters trap the overspray particles before the filtered air is discharged through the exhaust duct system and into the atmosphere. The booths are available in a wide range of models to meet virtually any production requirements. They have a built-in work table to set the products on that you are finishing, which makes them a great option for small parts and maintenance facilities.
Conveyor openings can be as much as 25% of the booth open front area without requiring an additional exhaust fan. Specially engineered enclosures may be designed to meet your requirements. Heated air replacement units and intake chambers can be added as well as to reduce air flow for automatic spray operations.
Example Open Faced Paint Booth Drawings – click image to enlarge drawings
Our factory trained installation crew can get your new Open Faced Paint Booth installed correctly and quickly.
This our specialty! You can rest assured that your new equipment will be operational in no time.
Need more information about an Open Faced Paint Booth? Request a Quote
If you need help or have any questions you can always call 800-637-4027
The sizes listed below are standard catalog sizes. We can custom build all of our finishing equipment to meet your needs. Call us at 800-637-4027.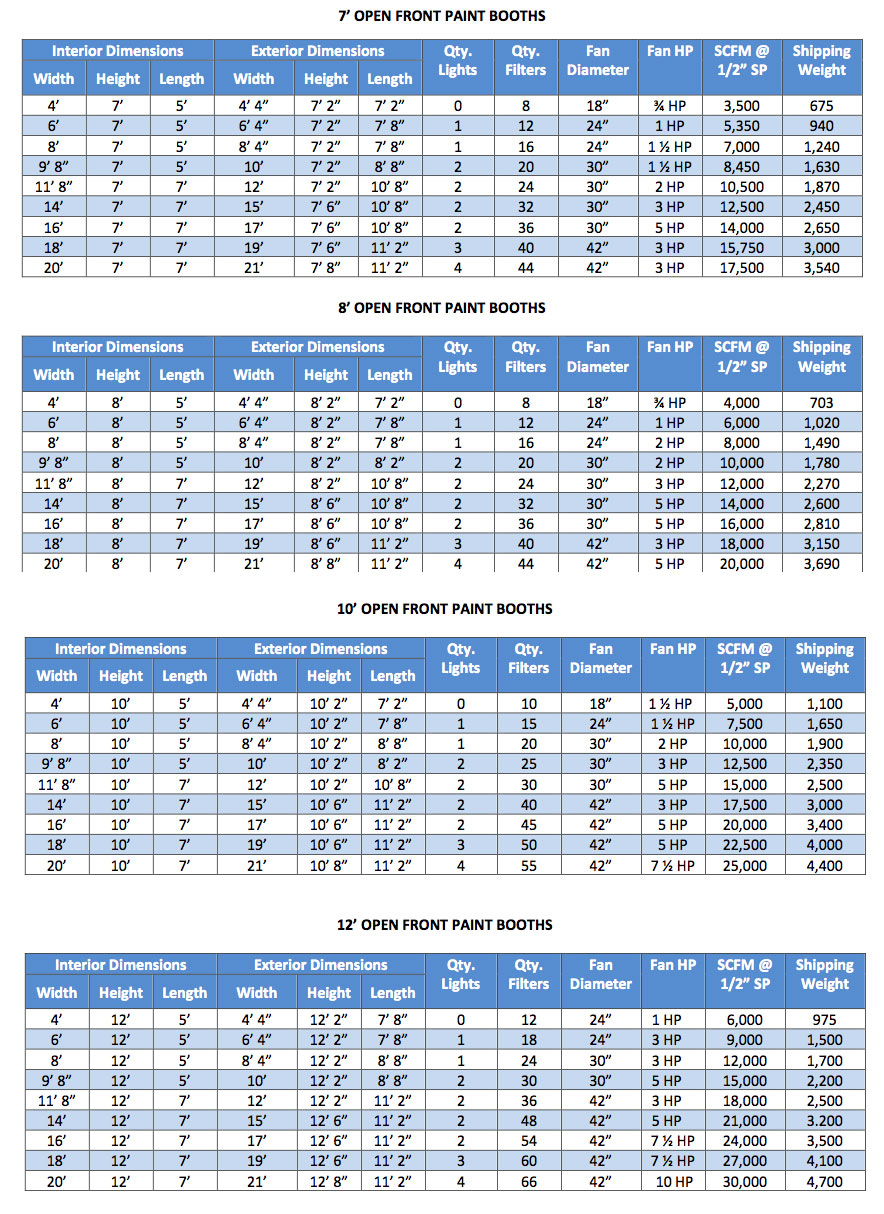 One of the most important details not to be overlooked in a paint booth is the lighting. Our booths feature industry superior lighting with four-tube, 48″ long, 32-watt, fluorescent light fixtures. They are ETL listed (Class 1 Division 2) inside access and are supplied with multi-voltage ballasts to accept any voltage between 120V and 277V power. Bulbs are included.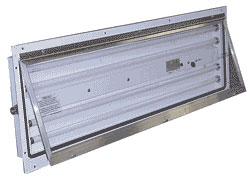 LED light fixtures are an option that can be easily integrated into any existing spray booth or fixture. To find out more about LED light fixtures, please click here.
Options
Powder coated white option
Heated air replacement units and intake chambers
Reduced air flows for automatic spray systems
Conveyor and crane slots/openings available
Control panel and other electrical components
LED light fixtures
Exhaust duct packages

Our products meet and/or exceed all applicable OSHA and NFPA regulations. They are also ETL- Listed with purchase of optional control panel or heated air make up unit, which comes standard with a control panel.