Powder Coated Paint Mixing & Storage Room
Our Powder Coated Paint Mixing & Storage Rooms include the exhaust duct work package for a 17' high roof, ETL Listed control panel with motor starters and on-off switches and they are also POWDER COATED!
The air flows in through filters located in the ceiling downward through the work area and into the exhaust box located near the floor at the opposite end of the room. The exhaust air is drawn through the exhaust filters and is discharged upward through the exhaust stack.
Lighting Features
Bright Paint Mixing room illumination is provided by 48", four-tube, 32-watt, fluorescent light fixtures located in the ceiling panels. Each light fixture is sealed with a rubber gasket behind clear, tempered safety glass. All fixtures are UL listed and approved for their intended use and placement. Bulbs are not included.
Quality Construction Features and Quality Standards
All paint mixing rooms are made with high quality 18-gauge galvanized steel. The personnel access door is pre-hung in a heavy duty galvanized steel frame for easy installation. Brixon door latches are provided for the personnel door. Also Included is one 14"x48" observation window in all paint mix room doors.
Exhaust system is driven by a 12" diameter tube axial fan.
All hardware, filters and sealants needed for the booth installation are included.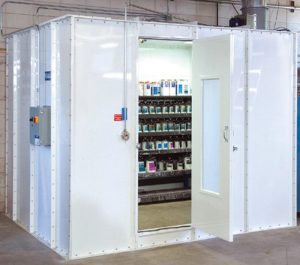 Powder Coated Paint Mixing & Storage Room Dimensions
PMR-0808:
Interior Dimensions: 8'W x 8'H x 8'L
Exterior Dimensions: 8'4"W x 8'2"H x 10'6" L
Access Door: 1
PMR-1008:
Interior Dimensions: 8'W x 8'H x 10'L
Exterior Dimensions: 8'4"W x 8'2"H x 12'6" L
Access Door: 1
PMR-0812:
Interior Dimensions: 8'W x 8'H x 12'L
Exterior Dimensions: 8'4"W x 8'2"H x 14'6" L
Access Door: 1
PMR-0815:
Interior Dimensions: 8'W x 8'H x 15'L
Exterior Dimensions: 8'4"W x 8'2"H x 17'6" L
Access Door: 1
PMR-1015:
Interior Dimensions: 10'W x 8'H x 15'L
Exterior Dimensions: 10'4"W x 8'2"H x 17'6" L
Access Door: 1
There are many available options and other sizes just give us a call 1-800-637-4027